It is without any surprise whatsoever that World No.1, Gregory Gaultier (FRA), has been named the PSA Men's Player of the Month for May, while World No.103, Satomi Watanabe (JAP) has been named as the PSA Women's Player of the Month for May.
While you may not be as familiar with Japanese squash player Watanabe, if you have been paying any attention to the sport at all in the last few months, you know how every title and every game has seemingly been coming up Gaultier.
Gregory Gaultier
The Frenchman (or French General), Gregory Gaultier, is now 34-years-old, but is showing no signs of slowing down. He has had one incredible season, especially as 2017 began. Overtaking Karim Abdel Gawad of Egypt to break his own record as the oldest World No.1, Gaultier also beat World No.5 Ali Farag twice in a row in the finals of the Grasshopper Cup and the Bellevue Classic to claim six titles in a row.
With an impressive 2017, Gaultier's only defeat was to previous World No.1 Gawad of Egypt, in January at the JP Morgan Tournament of Champions. From there, he was unbeatable. Throughout the month of May, he claimed victory in the Grasshopper Cup and Bellevue Classic without even dropping a single game, bringing his unbeaten run up to 27 matches, where it still stands.
For the second time in three months, his incredible performance on the court has earned the Frenchman the name of PSA Men's Player of the Month.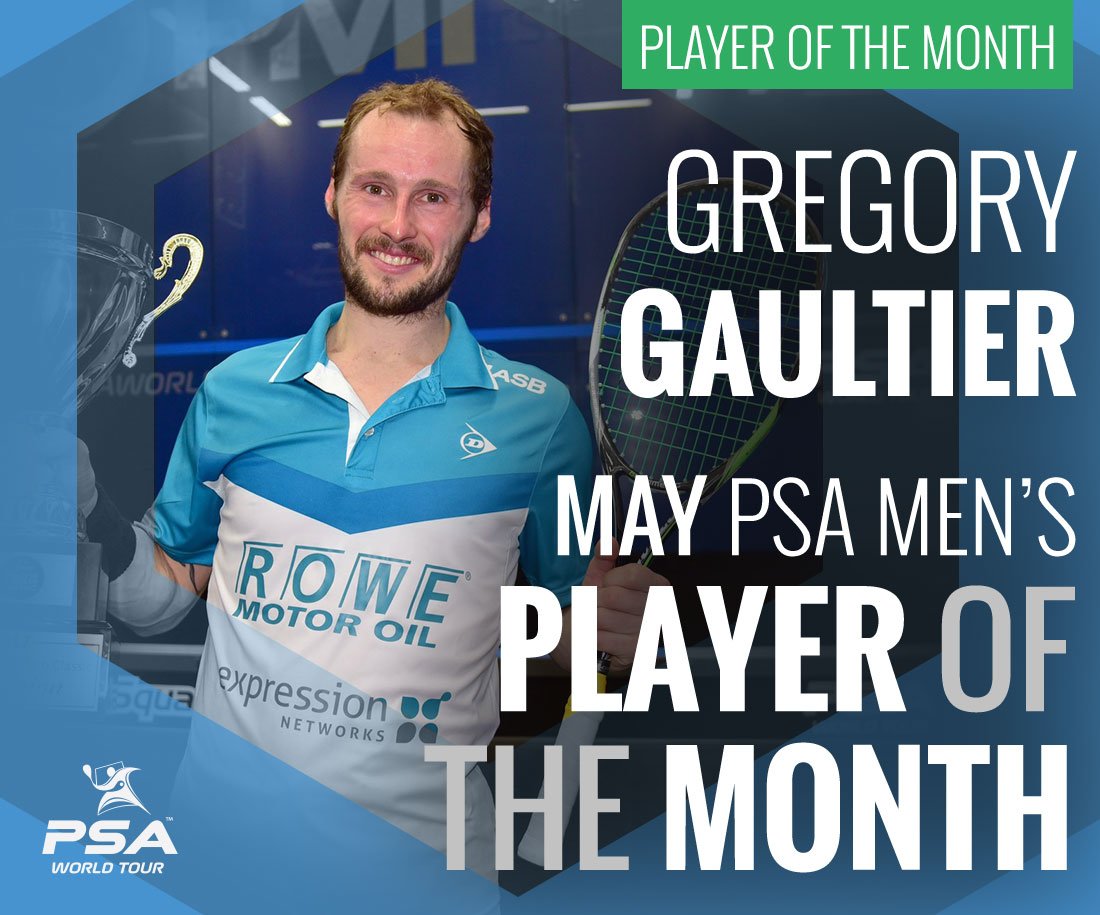 Satomi Watanabe
You may have thought that another highly ranked PSA player would have captured the women's Player of the Month, such as Nicol David or Nour El Sherbini, but the well-deserved honor goes to Satomi Watanabe of Japan as PSA Women's Player of the Month for May.
Watanabe has actually become the first Japanese player to earn a PSA Women's Player of the Month award — this honor was bestowed after she defeated Deon Saffery of England and took the Nissan Open title.
She began the month of May with a runner-up finish on the ninth leg of the Malaysian Tour. Watanabe continued to her next tournament (the Nissan Open) and in a shocking victory, defeated top seed Vanessa Chu of Hong Kong — who was ranked 138 spots above Watanabe. She then beat Ka Yi Lee and Ooi Kah Yan in the next rounds before Watanabe defeated Deon Saffery (ENG) in an incredible fifth-game tie-break display to take the title.
Even more incredible is that Watanabe's Nissan Open win ensured that she would move up 93 spots in the World Rankings and she will occupy the World.103 spot for the month of June.
Read Next
Never Doubt the Frenchman: Gaultier Captures Sixth Successive Title After Winning the Bellevue Classic!
Maria Toorpakai Wazir, Pakistani Squash Player, Appointed to IOC's Women in Sport Commission